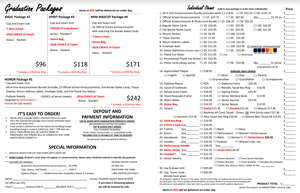 Attention All Seniors:
Jostens Grad Packages and Order Form Wednesday, Dec. 6th @ Lunch - Jostens on Campus at flagpole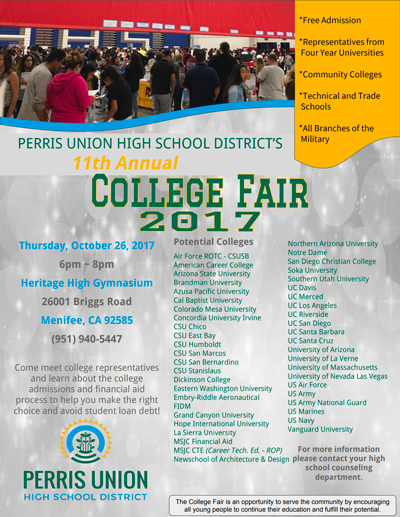 PERRIS UNION HIGH SCHOOL DISTRICT'S 11th Annual College Fair
Come meet college representativesand learn about the college admissions and financial aid process to help you make the right choice and avoid student loan debt!
Free Admission
Representatives from Four Year Universities
Community Colleges
Technical and Trade Schools
All Branches of the Military
The College Fair is an opportunity to serve the community by encouraging all young people to continue their education and fulfill their potential.
Thursday, October 26, 2017
6pm...... Read More
Super Saturday
September 9th
8am-12pm
There are 4 reasons you may want to come:
Study for classes, get tutoring help, or find a quiet place to work.
Credit recovery help in Plato (tests can be unlocked by teachers)
SENIORS - Begin your UC/CSU/Common Applications.
Make up tardies from this year and/or last year - students can clear 13 lunch detentions
If you plan to attend, you must sign up electronically (link below), with Ms. Navarro at the front desk near the principal's office, or in Behavior Support Office.
---
Read More
About
The mission of the Perris Union High School District is to provide quality educational programs and meaningful opportunities which encompass the intellectual, social, emotional, and physical aspects of all students within the district and which will enable them to become productive members of society.