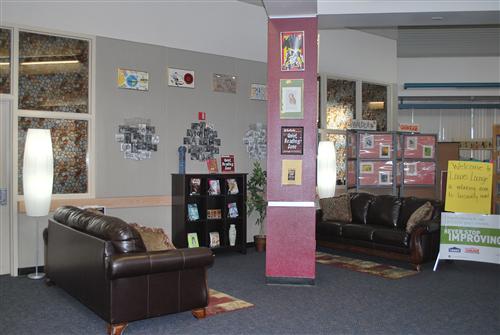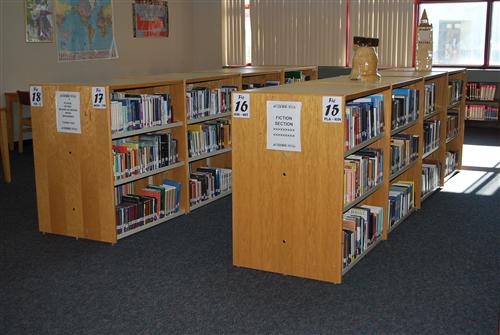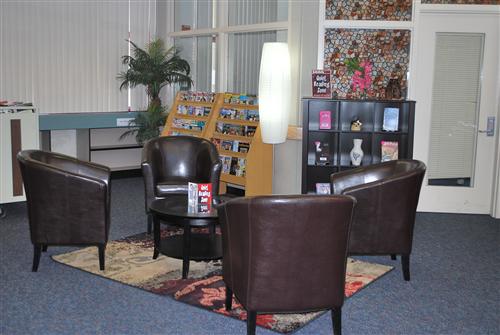 Welcome…
The Paloma Valley High School Media Center is located in the center of the campus in Building A – between the Counseling Office and Parent Center.
Our Library Media Technician, Mrs. Martin is available to assist with your research, library book and textbook needs. The goal of our media center is to encourage our students to take advantage of the various methods of research to aid in their studies and to encourage the enjoyment of reading.
In 2011/2012 the Media Center received a $5000 grant from Lowe's Home Improvement store for a Media Center Makeover! With this grant money the Media Center now has a beautiful new Reading Lounge for students to enjoy while reading a favorite book! Along with that, several new and popular Young Adult novels were purchased to further aid in our quest to encourage the love of leisure reading.
In addition to library books and reference encyclopedias, we offer audio books in easy to use "playaway" format, a small selection of graphic novels (books set in a comic book format) and we recently added ebooks. Our media center now offers 7 new Macintosh computers to also help students complete their research and homework assignments and to further meet the needs of our students, free wireless WiFi internet connection is available campus-wide.
Please remember that a student ID card is needed to checkout textbooks, library books and to use the computer lab.
The Media Center offers an electronic card catalog station that you can utilize to search all current library titles and their information. You can also access the card catalog system online from any device that has internet connection – In our Links page, locate "Destiny" and select Paloma Valley High School.
The Media Center hours are: Mondays 8:00 AM until 3:25 PM and Tuesday to Friday 7:10 AM until 3:25 PM. Students are required to have a valid pass from their teacher when entering the MC during scheduled class time. The definition of a valid pass means that it contains the following information: Date, Time or Period, Student's Name, Teacher's Signature.
If you have any questions, you can contact Mrs. Martin
Phone: 951.672.6030, ext. 22128 FAX: 951.672.6037 Email: monica.martin@puhsd.org
"A room without books is like a body without a soul" Cicero
FYI: There are two (2) libraries on our campus. Aside from our school library/media center, there is also a Riverside County Public Library. It is located at the front entrance of our school, to the left of the Student Parking Lot. This is a public library therefore open to all community members. They offer extended hours after school, but are closed on Fridays. They do not checkout textbooks for our campus, nor do they collect PVHS books. A patron must have a valid Riverside County Public Library Card to utilize their services. Please do not return any of your school library or textbooks to the Public Library or place them in their drop-off box. All school checkouts must be returned to the campus media center.
If you would like more information on the Riverside County Public Library system, please click HERE.