Paloma Valley High School's Navy J.R.O.T.C. unit is reaching levels once not possible for it to achieve. With cadets raising the bar of excellence each and every year, there is nothing this unit can't take on. Our unit is here to build leaders of our future, either in the U.S. Military or Civilian Career. Make no mistake, our cadet leadership and our program will continue to grow in excellence.
JROTC COLLEGE PREP UNITED STATES ARMY UNITED STATES MARINE CORPS UNITED STATES NAVY UNITED STATES AIR FORCE UNITED STATES COAST GUARD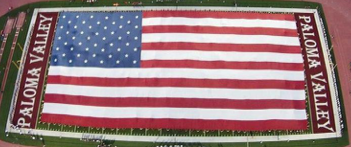 ### ADMINISTRATIVE NOTES:
MATH TUTORING: Monday, Tuesday, & Thursday 3:15-4:15 in U109 and/or U102 with Mr. Stigall & Mrs. Nigel ENGLISH TUTORING: Tuesdays & Thursdays from 3:15-4:15 in L105 with Mrs. Ramos SPANISH TUTORING: Mondays from 3:15-4:15 in J201 with Mrs. Avalos -OR- Tuesdays with Mrs. O'Connell J204
And every Wednesday tutoring is held in NJROTC from 1:30-3:30 for all subjects…ran by academically sound cadets.