Paloma Valley High School's Navy J.R.O.T.C. unit is reaching levels once not possible for it to achieve. With cadets raising the bar of excellence each and every year, there is nothing this unit can't take on. Our unit is here to build leaders of our future, either in the U.S. Military or Civilian Career. Make no mistake, our cadet leadership and our program will continue to grow in excellence.
JROTC COLLEGE PREP UNITED STATES ARMY UNITED STATES MARINE CORPS UNITED STATES NAVY UNITED STATES AIR FORCE UNITED STATES COAST GUARD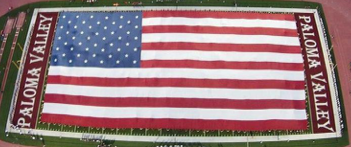 We are the 2017 Golden Bear West Coast National Champions!
Our Battlecats went to Golden Bear and competed like the professionals they are. After a long day they emerged as the overall winners. There were 40 schools from all over California as well as Utah, Colorado, Hawaii, and Guam. The teams included JROTC programs from all the services: Army, Navy, Air Force, and Marine Corps
---
PLAN OF THE WEEK: 31 JUL - 04 AUG
Summer Drill
---
MONDAY - WEDNESDAY: 31 JUL - 02 AUG
UNIFORM OF THE DAY: PT Gear Shorts and White T-shirt
0800 - 1200: Come out to brush up on the basics or if your will be new to the program you can get a head start prior to the first day of school.
Be sure to hydrate!
Bring a hat if you like and do not forget to put on some sunscreen.
---
Upcoming Events
09 AUG: First Day of School!