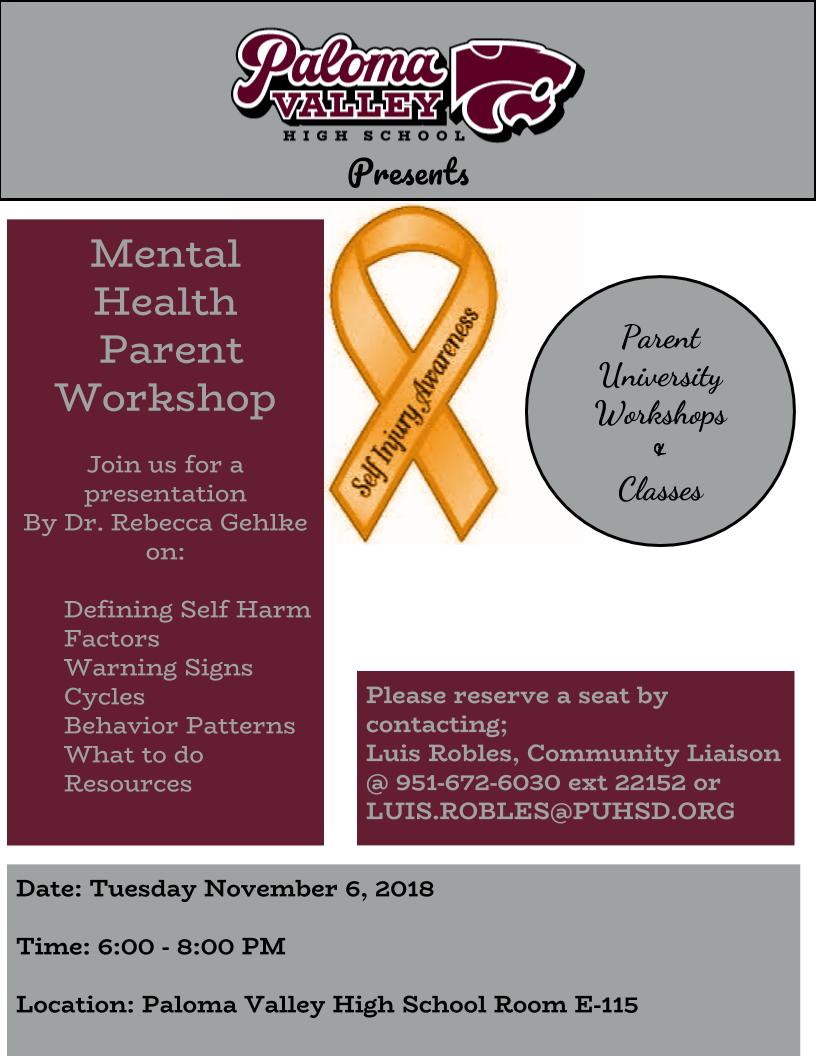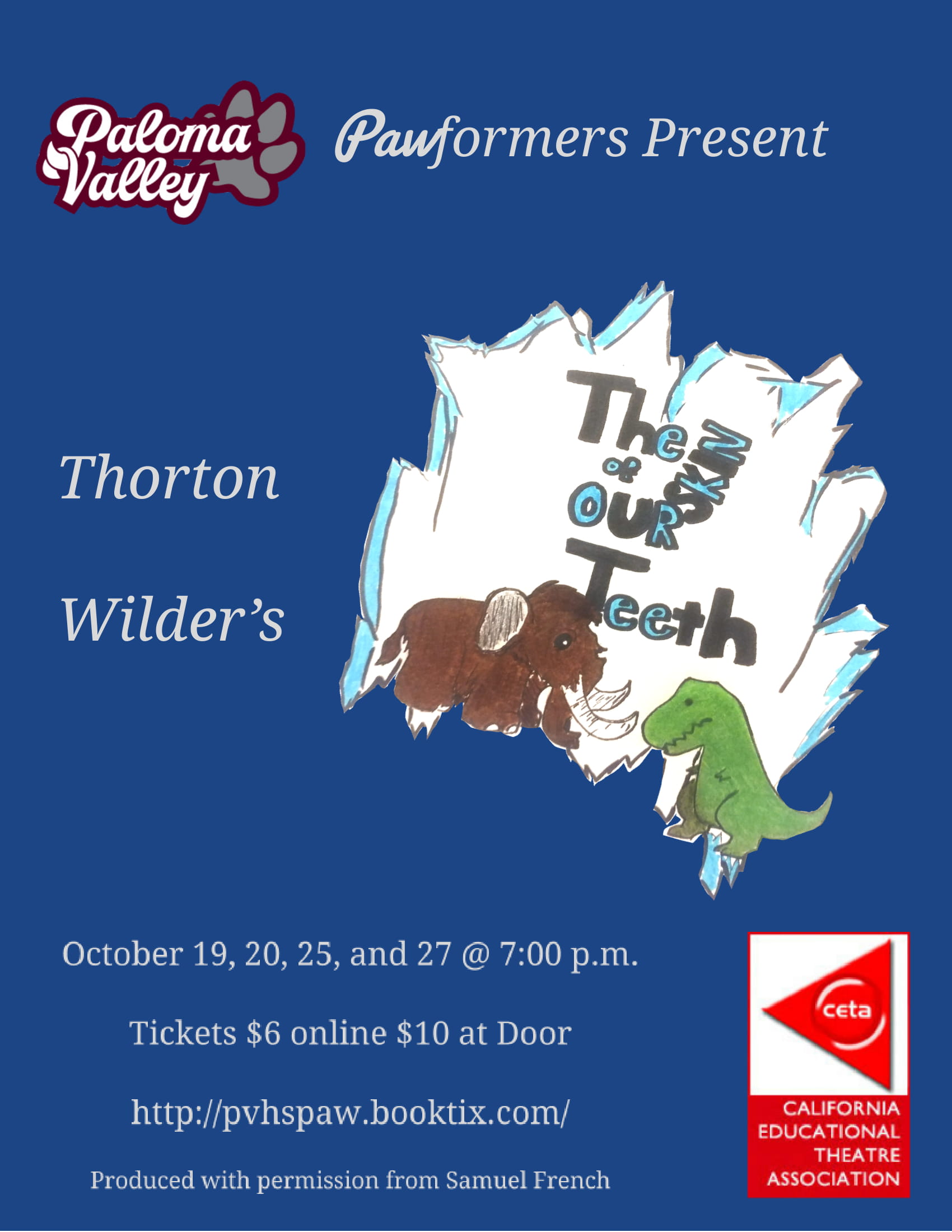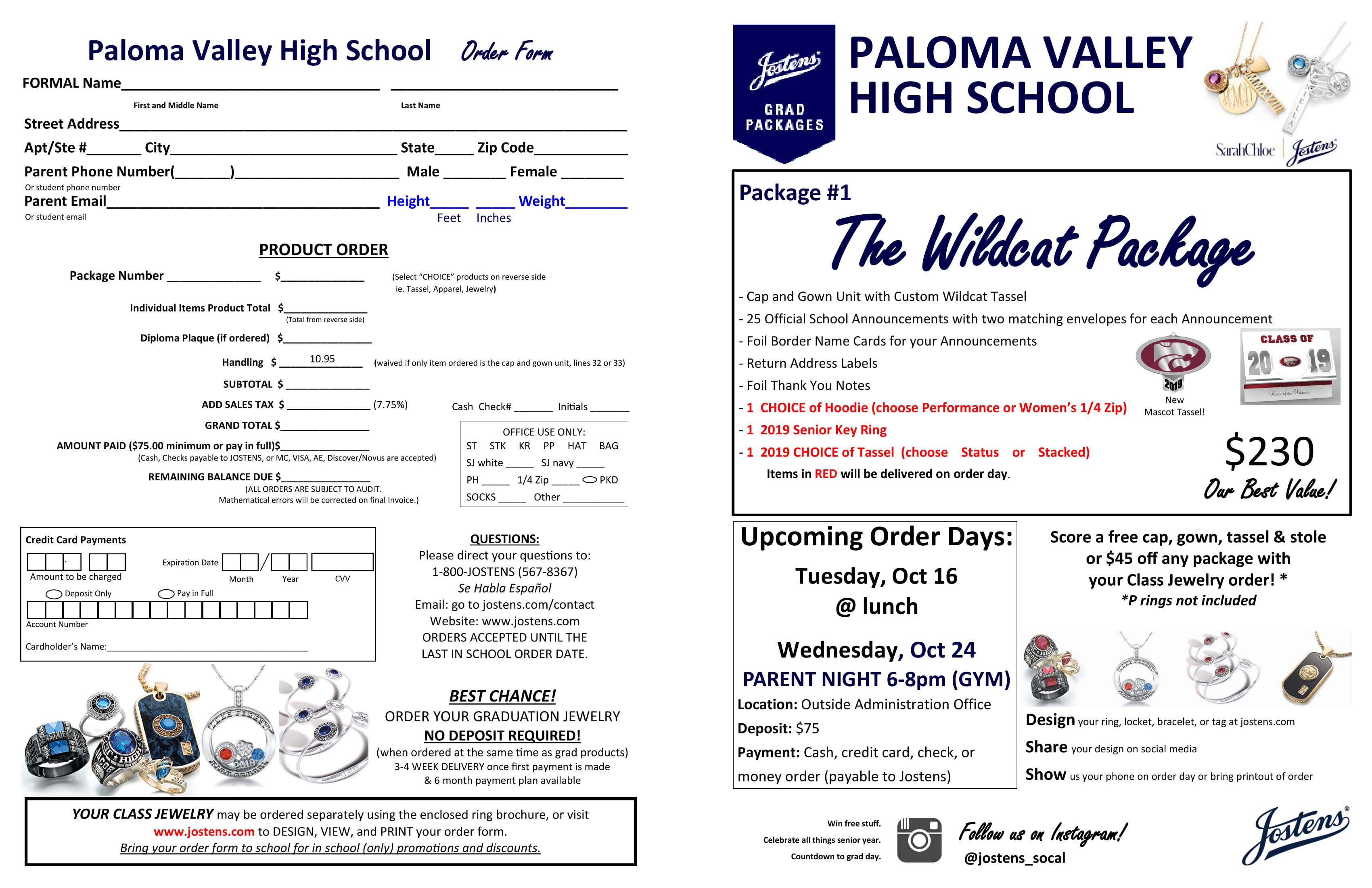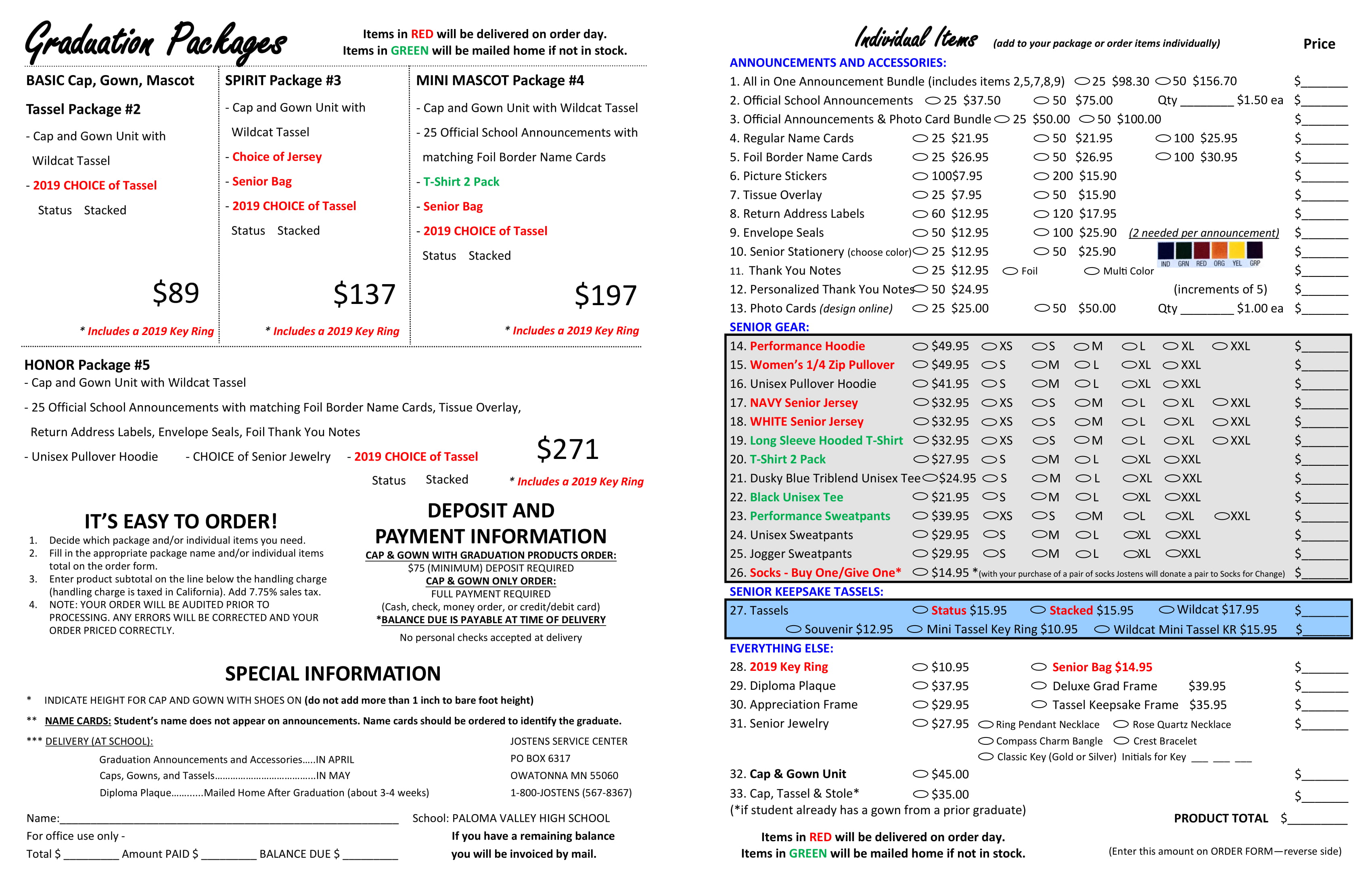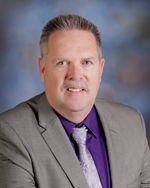 As a school community, we continue to struggle with the senseless tragedy that occured in Parkland, Florida. When a school shooting or any type of violence occurs on a school campus, we all experience a wide range of emotions, including wondering if something like this could happen to our children. The Perris Union High School District (PUHSD) is committed to providing a safe environment for our students and staff, not just at times of heightened awareness, but as the top priority on a daily basis.
The responsibility of keeping our schools safe belongs to everyone. We must all continue to be aware of potential threats and hazards that could jeopardize the safety of students and staff alike. Please encourage your student to speak out if they see or hear anything that could pose a threat to school safety. Quite simply, "If you see something, say something".
Preparation and training is of the utmost importance and we continue to take proactive steps on every campus to ensure the effectiveness of our security measures. As parents, you place your trust in us each and every day when you send your student to school. As a district, we have no greater responsibility than to educate and keep your children safe. As such, I wanted to provide to you the following examples for how each school in the district ensure safety on our campuses.
The District continues to assess safety through the work of the Safety Committee, site administration, and staff. We will continue to examine methods to further tighten campus security and safety. School safety is taught and reinforced through emergency plans, district wide training exercises, and regular drills. Multiple fire, earthquake, and lockdown drills are mandated annually for every public school, per Education Code.
We contract with the Riverside County Sheriff's Department that supply us with three School Resource Officers (SROs) who work closely with PUHSD schools every day. The SROs are stationed at each of our comprehensive high schools. Afterhours law enforcement tactical training has also been staged at various campuses, including active shooter training. The PUHSD Administrative team continues to train and refine our emergency practices through Administrative Command Team training. All staff members are required to complete a yearly online active shooter training and active shooter trainings have been offered during our district wide professional days.
School facilities are designed to provide a safe environment. PUHSD has furthered its efforts to secure classrooms by installing door locks that allow all doors to be locked from the inside. The District has also also recently upgraded school surveillance cameras and equipment.
School lockdown protocol is designed to meet any real or perceived threat. Fortunately, most lockdown incidents are precautionary, such as heightened safety during nearby law enforcement activity.
During a lockdown when the threat level is unknown, parents and family members are expected to follow lockdown protocol. For example, rushing to a school on lockdown may seriously impede efforts by first responders. Therefore, it is essential that family members await instructions from the school or district office during lockdown.
In the event of an emergency, PUHSD will use an automated telephone dialer, email, and text messages for official instructions. School websites and district social media will also carry instructions for parents/guardians and staff in an emergency.
Following a lockdown, site administration will send an announcement, using the automated system, to inform parents about the causes and outcomes, to ensure factual information is given, and to combat rumors.
Students, parents, and families are the first line of communication regarding school safety: teach your children to have trust in school staff if they need someone they can talk to; teach them to say something if they see or hear something potentially dangerous or threatening. Stress the importance of being aware and acting responsibly. During school hours, any threats or concerns should be reported immediately to school staff. During evenings and weekend hours, contact local law enforcement to report any threats or concerns. We ask that you talk to your child about the risk of making comments that could be seen as threatening or dangerous to students or staff at a school. Even jokes and hoaxes threatening violence are taken seriously and could involve the charges filed by the Sheriff's Department.
In light of recent events, again, we wish to reassure parents, students and staff that the district is working hard and will remain vigilant to keep schools safe for everyone.
– Grant Bennett - Superintendent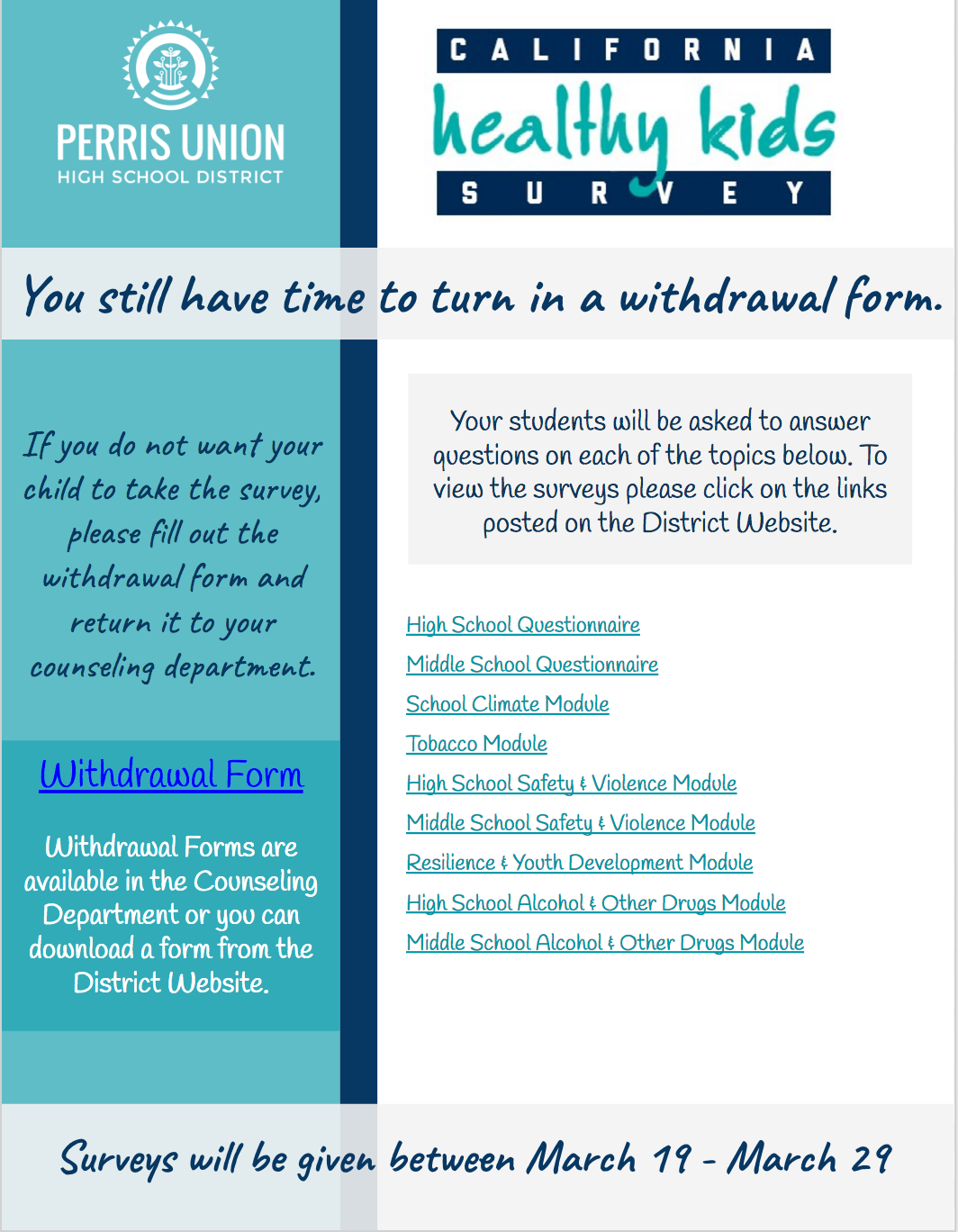 Students in grades 5,6,7,9,11 will be asked to take a very important survey that will help promote better health among our youth, improve the school learning environment and combat problems such as drug abuse and violence. Please click on the link below to view the surveys that will be administered to your students in March.
---
If you do not want your child to take the survey, please fill out the withdrawal form and return it to your counseling department.
Withdrawal Form
*Withdrawal Forms are also available in the Counseling Department
Our 2nd Annual Maker Camp will join Paloma Valley & Heritage High School together for four days of creative projects this summer. A Maker Camp is a place where you will use materials to build things like balloon powered race cars, mason jar LED light displays, custom momentos from our laser cutter, and many more projects that combine design, engineering, and technology.
Cost: The event is FREE to all students and includes breakfast and lunch.
Location: Paloma Valley Campus in the Makerspace. It is located next door to the Media Center in the Admin Building. 31375 Bradley Rd, Menifee, CA 92584
When: June 21st, 22nd, and 23rd. (Mon-Thu) 8am - 11am
Food: Breakfast service ends at 7:30 (show up early) and lunch will be served at 11.
Teachers: Sandra Arguello, Joe Jennings, Jed Butler, Slobodan Stevanovic, and Tom Ashley
If you are interested in attending or would like more information please join our contact list. Sign Up Here!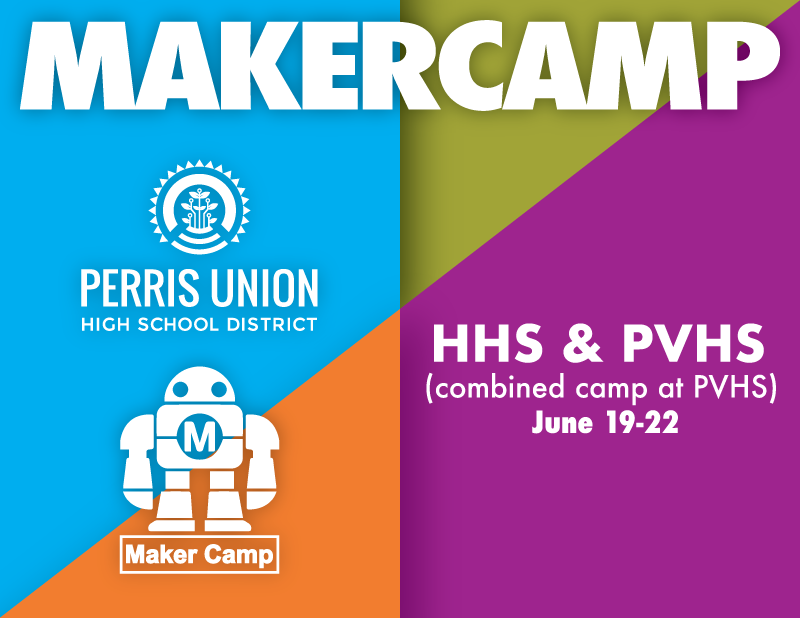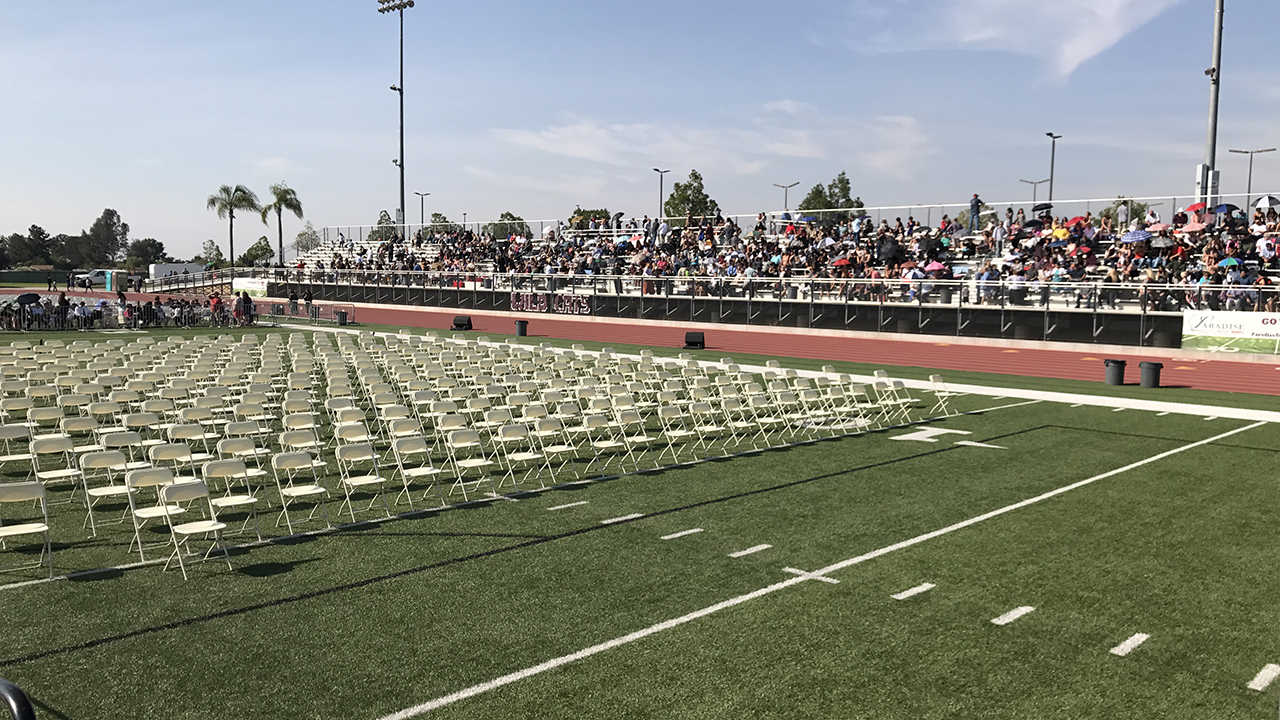 Please watch our 2017 Graduation Ceremony Livestream at: https://youtu.be/khXXDto7Tys

Please be advised that Perris Union High School District (PUHSD) is aware of the internet posts, which appear to be a nationwide hoax, having to do with clowns. Some posts state that clowns will be coming to schools and causing harm. We are working closely with the Riverside County Sheriff's Department in an effort to put our students and school community at ease. PUHSD in conjunction with the Riverside County Sheriff's Department and School Resource Officer (SRO) Robles completed an investigation in which students were interviewed and websites were researched confirming that this indeed is a hoax. To date we have not had any verifiable clown sightings near or at any schools within PUHSD.
We are aware that there have been threats on the internet and we urge you to have conversations with your students regarding the sites they are visiting as well as general Internet safety. In addition to online safety, now may be a good time to have a conversation about being aware of their overall surroundings. For more information about online safety, please visit our Digital Citizenship site at: http://pvhs.puhsd.org/digcit
Please rest assured that the safety of our students, staff, and school community is a priority for Perris Union High School District. We take every threat seriously and will take the necessary measures to address them and utilize all of the resources at our disposal to ensure the safety and security of all parties.
Race to Submit is challenging high schools in Riverside County to increase their Free Application for Federal Student Aid (FAFSA) submission rates and help students discover the financial aid available to them.
Free and Reduced-Price Meals are available to families who believe they may qualify. If your family chooses to apply, please complete a" Free and Reduced -Price Meal Application Form." The forms can be obtained and returned (completed) to any school office. You will be notified by mail of your child's status. Until notification, you must provide your child with a lunch or lunch money.
You may apply for Meal Benefits online!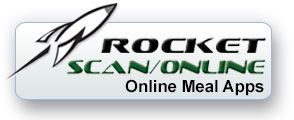 Only complete one application per family. The information you give will be used to determine or prove your child's eligibility for free or reduced-price meals. This information may also be used for other state or federally funded school benefits.

Factors considered in the application process are household size and total household income. HOUSEHOLD SIZE is considered all persons, related or unrelated: including parents, children, grandparents who live in your home and share living expenses The TOTAL HOUSEHOLD INCOME is the income each household member received last month before taxes. This includes wages, social security, pension, unemployment, welfare, child support, alimony, and any other cash income.

Foster Children - In certain cases, foster children are eligible for free and reduced-price meals regardless of your income. If you have foster children living with you and want to apply for them, please contact us.
Paloma Valley High School cordially invites our Parents to join us for a cup of coffee and chat with our Principal Mrs. Thomasian every 4th Wednesday of the month! Please check in the front office to guide you to Room E115! Get to know your Principal and get familiar with your child's school!
We are looking forward to meeting you all!


Parents/Guardians/Students: This form is required to be completed by all 9th, 10th, and 11th grade students. We encourage parents to allow their student/s to check out their Chromebook for the summer. This allows our teachers to begin next school year using our 1:1 program without delays. This form will be passed out in English Classes on Thursday, May 14. If you misplace your form, please print another form out here. Students and parents are required to fill this form out even if opting to check their Chromebook in for the summer. Chromebooks checkouts will be held June 2nd - 5th. Seniors will turn in their Chromebooks on June 1st.