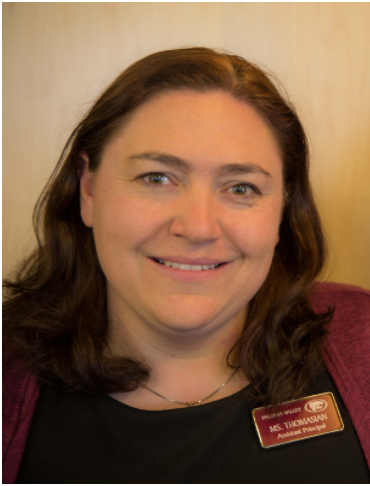 Jennifer Thomasian (Principal)-- Ms. Thomasian begins her third year as Principal at Paloma Valley High School, spending her previous 3 years as the Assistant Principal. She began her career as a Science Teacher at Lakeland Village Middle School in the Lake Elsinore Unified School District where she served for four years. Before coming to Paloma, she was a high school Science Teacher at Temescal Canyon High School in Lake Elsinore. Ms. Thomasian has served as the Chairperson of the Biology Professional Learning Community, as well as 504 and Advanced Placement Coordinator. In her three years as Assistant Principal at Paloma Valley, Ms. Thomasian implemented school-wide disciplinary practices and procedures in coordination with Positive Behavior Intervention Support (PBIS) strategies. She has a Biology degree from UCLA, Master's degrees in Educational Leadership from Azusa Pacific University, and soon will be completing her doctoral work this fall from Brandman University. Ms. Thomasian values the relationships she has built with staff, students, parents and the whole Paloma community over the past six years. She is very proud of the work the team has done and is excited to continue with our forward momentum.
---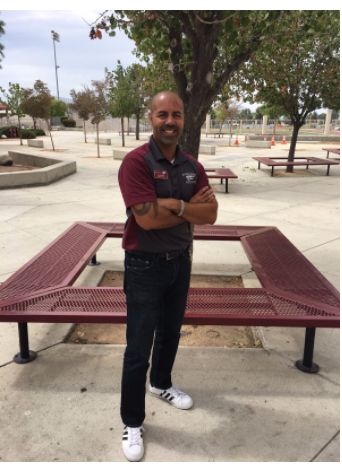 Lee Alfred - Asst. Principal
Lee Alfred (Asst. Principal)-- Mr. Alfred is a former high school counselor from Perris High School where he oversaw special education, athletic scholars, and at-risk programs. Now in his 4th year as an administrator at Paloma Valley, Mr. Alfred oversees Counseling, Social Science, Visual and Performing Arts. He has a BA in Communications from Cal State San Bernardino, an MA from Azusa Pacific University in Ed Counseling, and an MA from Concordia University in Educational Administration. FYI he is a major Dallas Cowboys fan!!!!
---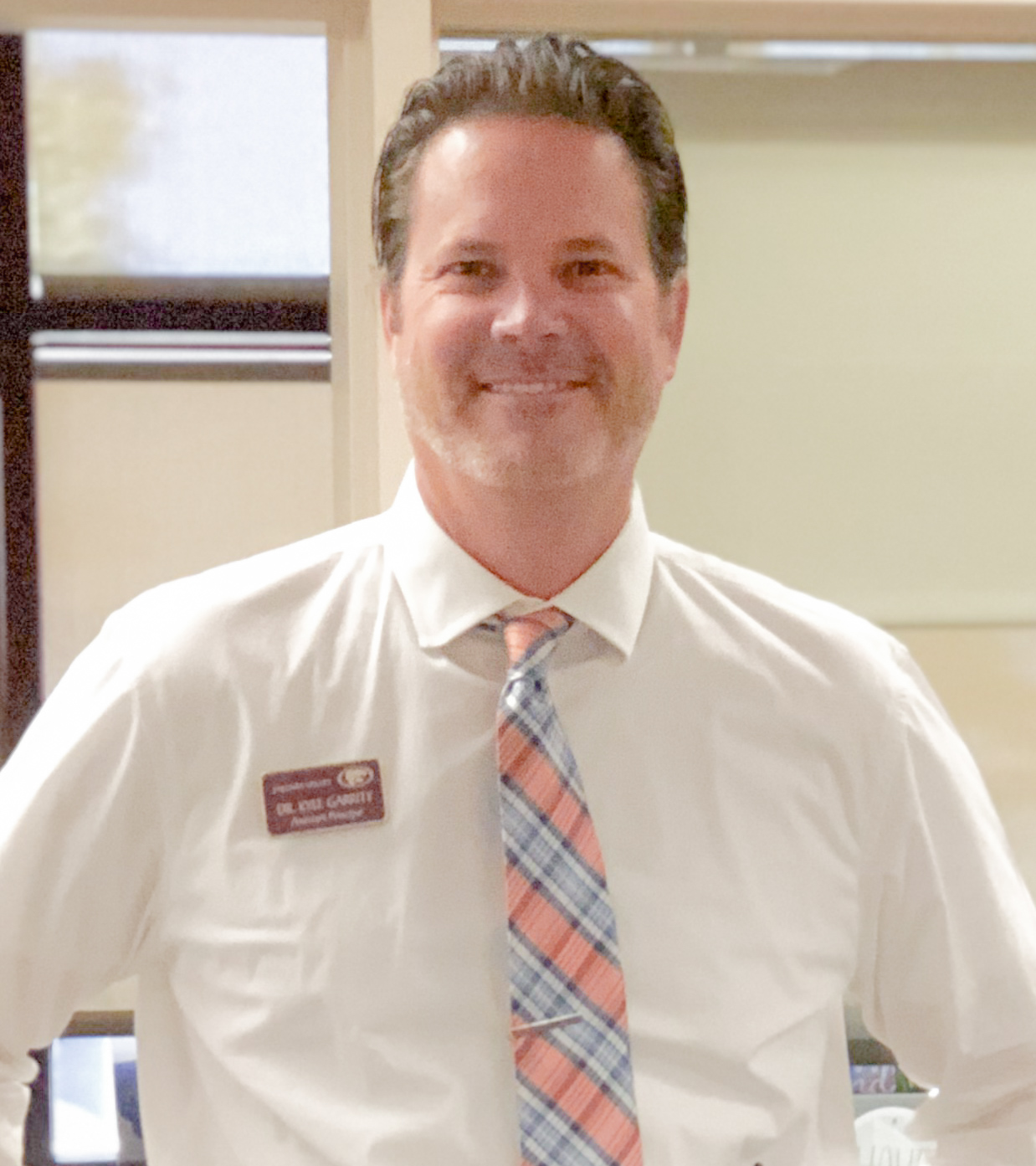 Kyle Garrity - Asst. Principal
Kyle Garrity (Assistant Principal)-- Dr. Garrity is in his 4th year as Assistant Principal at Paloma Valley overseeing Career-Tech Education, Special Education, State Testing, and World Languages. Previously he worked as a Social Science teacher, instructional coach, and baseball coach at Lakeside and Vista Murrieta High School. He earned a BA degree in Philosophy and Sociology from Carroll College (MT), a Master's Degree in Religion and Philosophy from Harvard University, and a PhD in Education from the University of California at Riverside. Many of his stories relate to his life growing up in the mountains of Southwest Montana, his struggle to be a Vegan, and attending his children's dance competitions. Go Wildcats!
---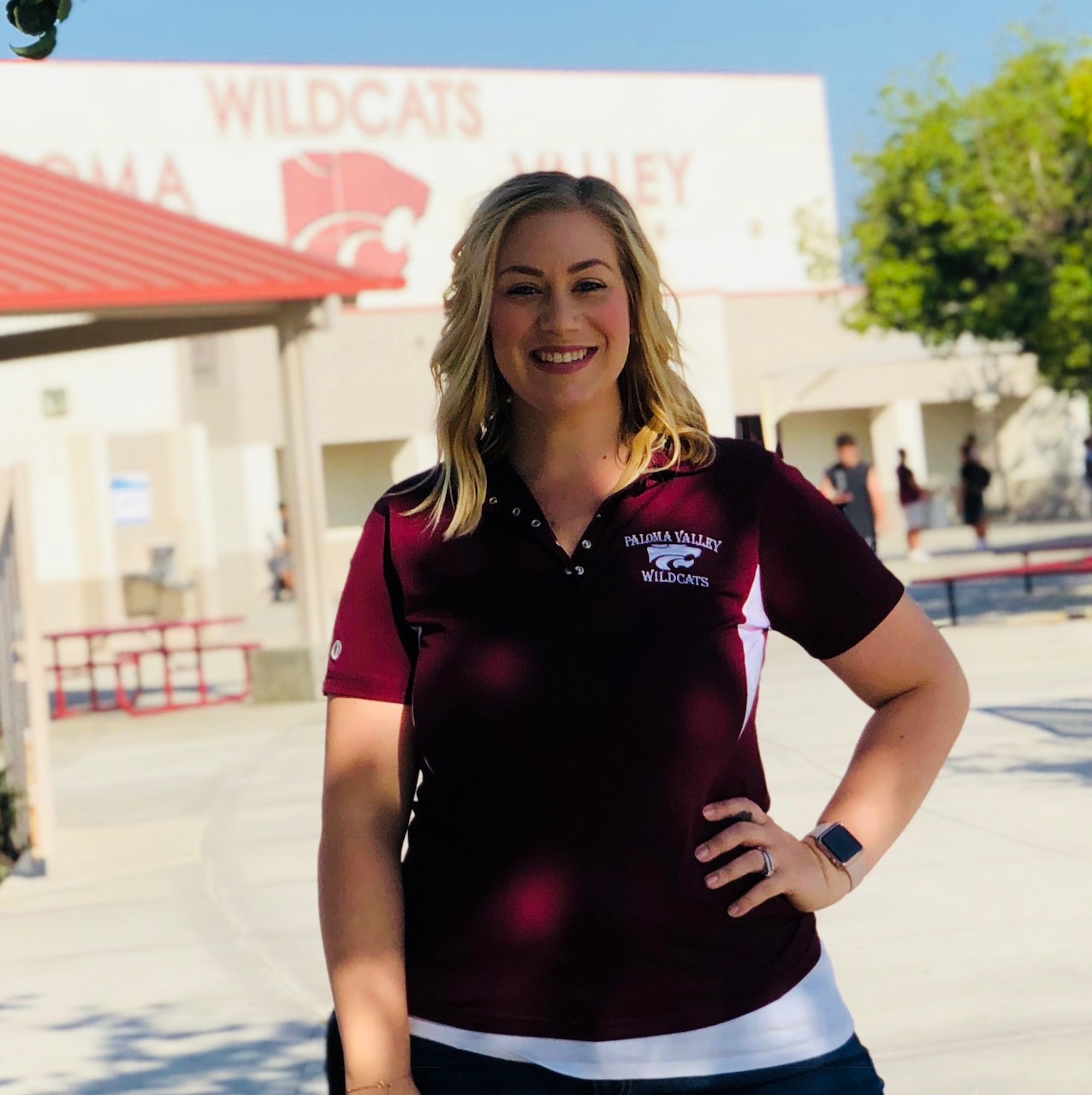 Claire Reis (Assistant Principal) is excited to be starting her second year as Assistant Principal at Paloma Valley High School. Previously, she worked as an Instructional Coach, Department Chair, Soccer Coach, and English Teacher in Fontana Unified School District. She has a BA in Program and Event Management and Single Subject Teaching Credential in English from California State University Long Beach. GO BEACH! She also has a Master's Degree in Teacher Leadership from California State University San Bernardino, and a second Master's Degree and Credential in Educational Administration from California State University San Bernardino. Claire grew up on the stage and has a passion for the performing arts. She is an Angels baseball fan, serial chocolate chip cookie eater, and wears pink on Wednesday's. Claire looks forward to serving a new community of students and being the positivity engager for the awesome team at PVHS.
---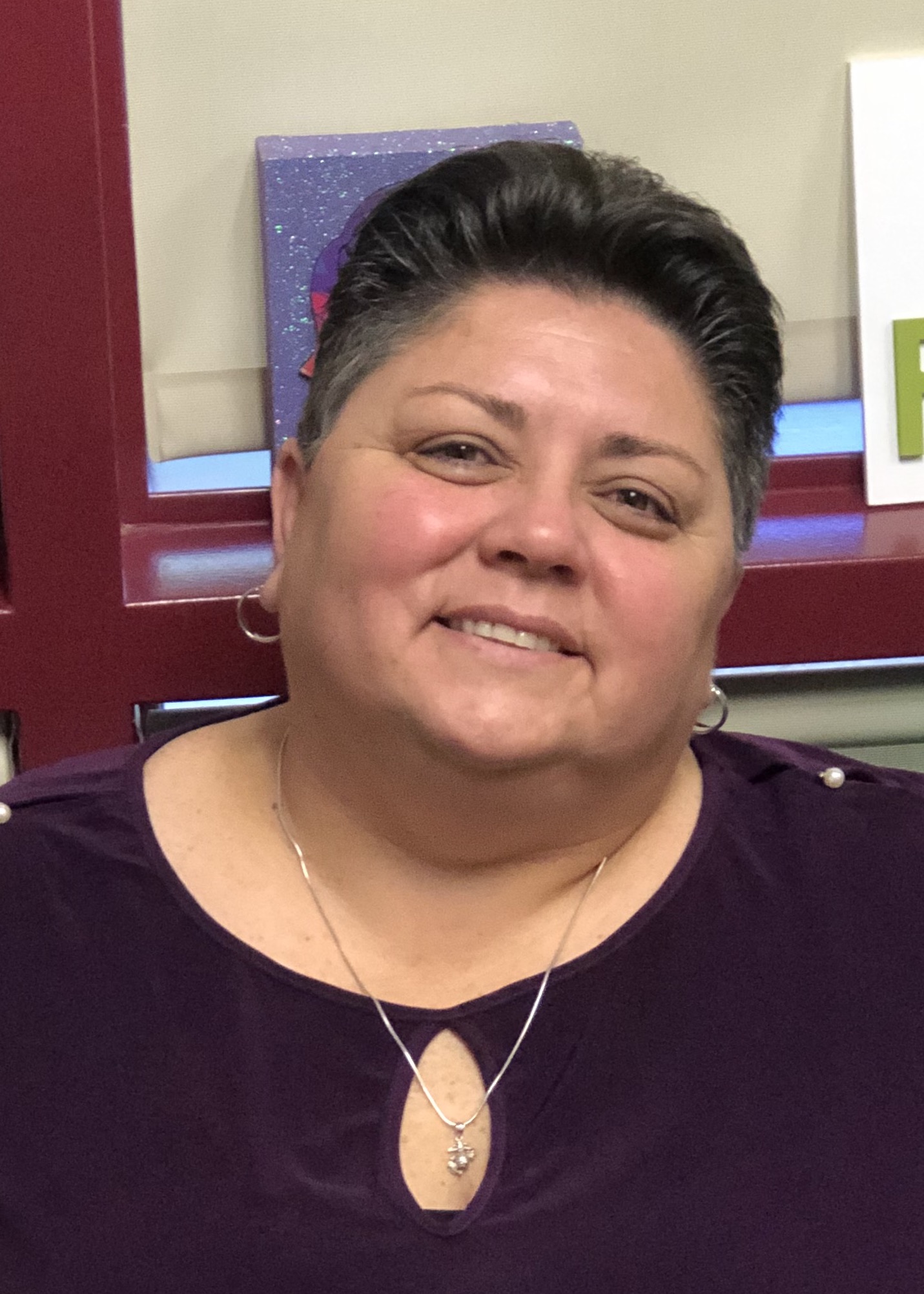 Ms. Amy Hall (Assistant Principal) is starting her second year as Assistant Principal at Paloma Valley High School. She previously worked as a Science Teacher, AVID Teacher, Head Softball Coach, and as an Intervention Teacher. She also was the Co-Chair of the Peer Assistant Review Committee, Co-Chair of the District Discipline Review Committee and 2nd Vice President of her local teachers union in Moreno Valley Unified School District. She has an Associate Degree in Marine Technology and is certified as a Commercial Diver with specialization as a MedTech for offshore diving, and earned her BA in Education and Training Development from Southern Illinois University-Carbondale. Her Master's is in Teaching with an emphasis in Educational Technology from National University. Ms. Hall served in the United States Marine Corps as a Field Radio Operator. Ms. Hall's passion is spending time on her boat, off-roading in her truck and finding amazing geological features. She also has competed in rodeo events of Bull Riding and Bareback Bronc Riding. She is an avid adrenaline junky and is always seeking the next thrill. Ms. Hall is excited to be here at Paloma Valley High School and to be a Wildcat.
---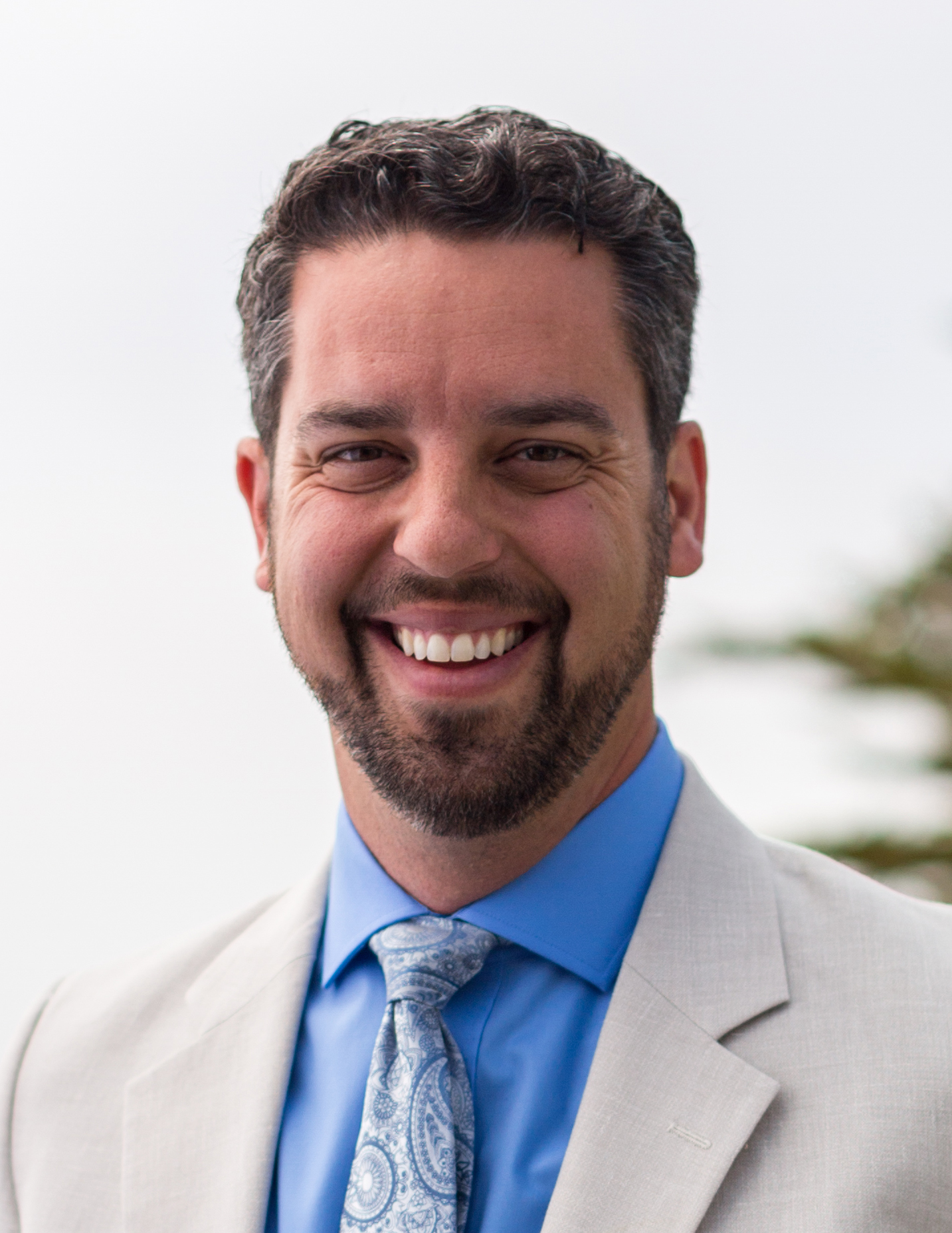 Ryan Sharp (Athletic Director) Mr. Sharp begins his 2nd year as Athletic Director. Originally from Eastern Washington (the ugly desert part...not the pretty forest part), he attended Boise State University and Cal State San Marcos. He has a B.S. in Applied Mathematics and a M.A. in Education as well as an Admin Credential. He taught math for 12 years and coached Cross Country and Track and Field for 15 years. At one point, he was a 4:16 miler before hanging up the running spikes. He has taught and coached at Mission Hills High, Temecula Prep, and Paloma Valley. He has 254 career wins as a coach. Fun Fact: He played in the National Pinochle Tournament...where he finished dead last, but maintains to this day that the cards were purposefully rigged against him since he was the youngest player by 30 years.
---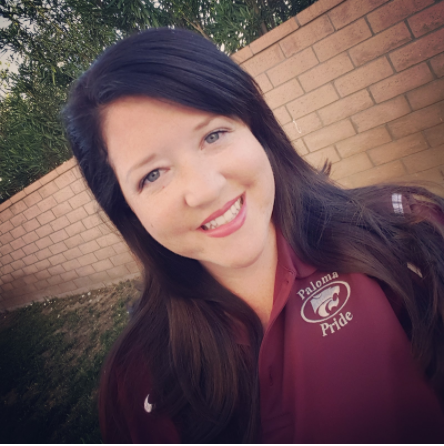 Kathleen Reid (Counseling)-- Ms. Reid is the Department Lead of Counseling and works directly with students with the last name N-R. This is her 13th year with the district and 5th as a Wildcat. She studied at San Diego Christian College (BA- Psychology), Azusa Pacific University (MA-School Counseling and Pupil Personnel Service Credential), and CSU San Bernardino (MA- Educational Administration and Credential).
---
Alison King (Activities Director)-- Ms. King grew up in Rocklin, California and starts her 16th year at Paloma Valley. She has served in the English Department, and now as our Activities Director, and has coached cheer, softball, soccer, and tennis. Some fun facts are that she danced competitively in high school, and can often be seen traveling with her fur-baby (dog) known as Jackson. Ms. King has a Bachelor's degree in English from Cal State San Marcos, and a Master's degree in Education from National University.
---
David Aguilera (Plant Manager)--