Commander Thomas Garcia - Senior Naval Science Instructor
---
Master Sergeant Frank Puebla - Naval Science Instructor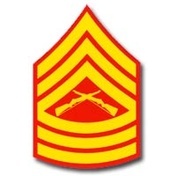 My name is Master Sergeant Frank M. Puebla and I am a retired United States Marine. I am originally from Texas and have been married for 20 years and have two daughters, Linda 19 and Sophia 10. I entered the Marine Corps August 06, 1991 and went on terminal leave September 23, 2011 (Last active duty day Dec 31, 2011). In my 20 years of honorable and faithful service, I have served in multiple countries which included both humanitarian and combat environments. I've served in a variety of billets such as: Packaging Specialist, Platoon Sergeant, Combat Refresher Training Instructor, Troop Handler, Drill Instructor, Senior Drill Instructor, Company Gunnery Sergeant, Career Course/Advanced Course Faculty Advisor, Deputy Director of the SNCO Academy, Academic Chief/Values Based Training Instructor at Drill Instructor School. My first day as Paloma Valley's NJROTC Naval Science Instructor was Sept 26, 2011.
Parents, Cadets, with 5 years of experience (As of Sept 26, 2016) under my belt now, I am keenly aware of just how much I DON'T know. I will say what I lack in knowledge and experience I attempt to make up in passion and enthusiasm. Making it to compete at the National level during the 14-15 school year has definitely left the cadets wanting more. I believe we are poised for an even better performance this year!
I thoroughly enjoy my profession and I care deeply about the training and development of your cadet. I consider the opportunity to be a part of your cadet's Leadership Development my Honor and Privilege. Please utilize me as a resource for you. I am in your corner!